Both restaurants and bars alike depend on something strong and reliable for glass washing. The properties of this product are clear – it should be effective, affordable, easy to use, and without posing any serious health hazards. The industry depends on something with strong sanitizing powers. Our newest blog will discuss the best bar glass washing product.
Bar Glass Washing at its Finest
Our number one pick would be:
Glissen Chemical's Nu-Foam Glass Washing Powder. It is the original product and still the most viable choice. It is perfect for swiftly and efficiently cleaning bar glassware. Bear glasses will retain their head on beer. Like many other products from our catalog, it is easy on the hands and can allow the glass surfaces to dry up without as much as a tiny dot on them. It is the best product when it comes to impressing the bar's clients.
Other choices include:
The Nu-Foam De-Limer Scale Remover. Another wise choice. It can clean efficiently without posing serious health hazards. It contains no acids and is perfect for removing hard water buildup from dishes and glass washing machines. Its effects are no less effective in cold water. It can also remove lime from most surfaces. Another great perk would be its use as an all-purpose cleaner for stainless steel.
Nu-Foam Powder Without Suds. Without any sudsing ingredients, the product can remove lipstick stains and spots quickly. It is easy on the hands and is perfect for underbar electric glass washing machines. A great choice for restaurants that use them. It helps in keeping the glass surfaces crystal clear and helps by extending the life of your washing machines.
Other Notable Products by Glissen Chemical, Brooklyn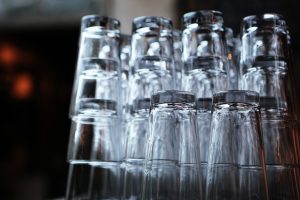 You can view the other amazing bar glass washing products here. We offer a number of different choices to our customers for any occasion.
Glissen Chemical has a long history with producing top-quality products. We can offer you efficiency, ease of use, and affordable prices. Our commitments to detail and customer satisfaction are remarkable. We are a major provider of glass washing powders, sanitizing tablets, as well as heavy duty laundry detergent. Feel free to go through our catalog and discover the different products we offer. Be sure to check our blog for other fun articles and industry news. You can also contact us if you have any questions: by phone number, e-mails, or directly visit our address in Brooklyn.